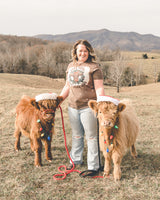 Meet The Owner...
Thank you for visiting Rustic Edge Designs. 
My name is Kelsey, the owner of Rustic Edge Designs...
A little bit about me, I am a fur mama to Easton and Sadie Mae. This is my side hustle I am a full-time Dispatcher, and I do all of my work out of my home in my little small town. I also own Highland Cattle Co. 
When I started making items in 2016 I did not realize that I would end up this far, I have been completely blessed with amazing customers, and I am excited to see what the future holds. I offer custom shirts, tumbler, apparel and so much more. If you don't see something you like message me via email or facebook @rusticedgedesigns we always except custom orders!
Looking for a fundraiser or a donation item for a event etc. message us via email or facebook for more information.
Make sure to follow us on facebook @rusticedgedesigns
Adopt a dog, Your Purchase Helps save a dogs life!
My goal each month is to sponsor a dogs adoption fee at The Lynchburg Humane Society. I adopted my boy Easton there four years ago and he has been such a blessing. All dogs deserve their forever homes, so what better way to do this than to help them find their forever home!
Each order you place with us a percentage of that will go towards the adoption fee of a dog.
Rocky is a handsome chocolate chunk with a lot of energy! He adores tummy scratches and pets once he's tired out too. Rocky is very playful, energetic, and curious! He loves playing fetch and jumping to give you kisses. He LOVES treats and even chewing on ice! He is very good about letting you know what his boundaries are, and becomes your best friend within a visit or two. He is likely his best self with no other large pets in the home to share attention with. He stood out to his BFF because he wasn't barking in his kennel; just quietly looking up and wagging his tail! We're shocked he hasn't been scooped up yet!
Contact Lynchburg Humane Society for more information on Rocky or to go meet him!
Lynchburg Humane Society - 434-444-0088 or adoption@lynchburghumane.org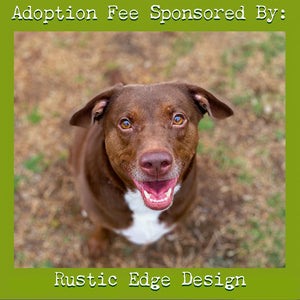 We are an accredited business with the BBB!