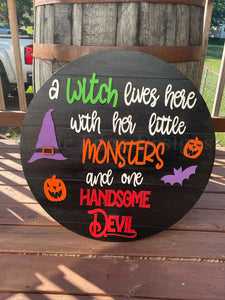 Available in 18" or 24" spruce pine wood round.
Made to order, and can be personalized if desired.
By placing your order you are agreeing to all term stated in the description.
Our pieces are cut, sanded, stained and hand painted. Please keep in mind each piece of wood is different. There will be variations in the wood, some pieces will have darker marks, wood grain and knots. 
This item comes in the colors posted in the image. If you wish to have a custom colored sign please contact us on Facebook @rusticedgedesigns
**Please understand colors may vary from screen to screen or in person.**
No refunds or exchanges all sales are final. 
If you choose Local Pick Up - you will receive a notification via email or text about where and when to pick your order up. If you have any questions please contact me via Facebook or Email @ kbfalls02@gmail.com