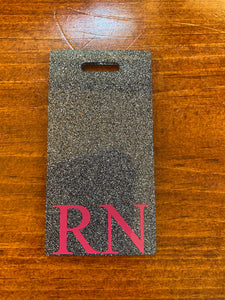 Badge Buddy
BADGE REEL NOT INCLUDED! 
Approximately 3.5"
Handmade so there may be slight differences or imperfections. 
Don't see what you want?
Message me and we can create what you are looking for!
PLEASE HANDLE WITH CARE - Acrylics can break if dropped or knocked against hard surfaces. Try to avoid tugging/pulling when removing item(s) from your purse or pocket. Avoid prolonged exposure to heat and water. To clean smudges, wipe with a damp lint-free cloth.
Sealed / Unsealed - If you choose to have your item sealed it is sealed with UV Resin, making the permanent vinyl unable to be removed or come off over time from wear and tear. Leaving your badge unsealed meaning the permanent vinyl is subject to wear off over time. 


We are not responsible for the removal of vinyl if you purchase your items unsealed.
Please understand colors may vary screen to screen as well as screen to in person we will not accept returns or exchanges due to color.
*Processing & Shipping*
Please allow at least a 2-4 week turn around.
If you choose shipping please add an additional 4-8 days for your item to arrive to you.
By placing your order you are agreeing to all term stated in the description. 
If you choose Local Pick Up - you will receive a notification via email or text about where and when to pick your order up. If you have any questions please contact me via Facebook or Email @ kbfalls02@gmail.com